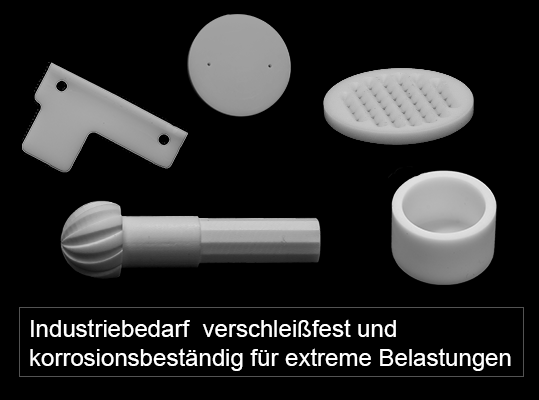 CUSTOM-MADE PRODUCTS
In many applications areas, where metals were used in the past, they are now replaced by ceramics. Due to their high hardness, abrasion and wear resistance as well as their corrosion resistance, ceramic components offer clear advantages over other materials. In order to make optimal use of the positive characteristics of technical ceramics requires years of experience. Ever since 1994 the company MOJE Keramik-Implantate has been extremely successful in the development and manufacture of ceramic dental implants and implants for joints of the fingers, feet and wrists. These many years of knowledge we will be able to apply for the production of industrial goods. Due to the long service life and low wear resistance, screws and nuts, and any other small items of different geometry will easily find their application in all industrial areas. According to the wishes of the customer, the finest threads of high strength be manufactured, which are also used in aggressive media and in the high temperature range. From prototyping to serial production, the company MOJE Keramik-Implantate covers the entire production spectrum of industrial customers. Thanks to its reliability and high quality requirements, MOJE Keramik-Implantate has received numerous certifications in recent years that meet even the most stringent international requirements.
prototype production
We can produce small ceramic components for the industry. Your inquiry will be processed in the short term. Prototyping is no problem for us.
Individual production from 1 piece is possible.
Request for destribution are welcome.